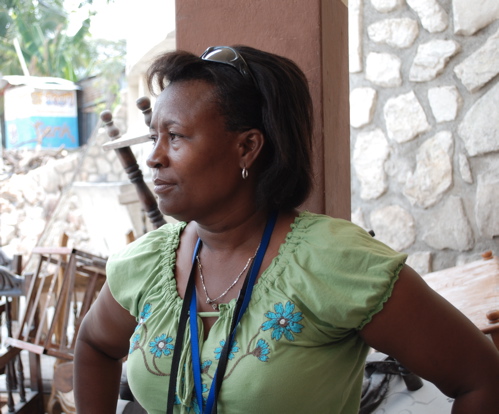 Haitian community activist Rea Dol talks about SOPUDEP the school she started in 2000, the struggles to keep it going and surviving the earthquake… without the help of the "Republic of NGO's". This is what happened to Rea and thousands of other Haitians who acted to help themselves. They knew that from past experience that to wait for help was a waste of time – and she was right, still they have not come to help!
When the quake hit and Rea realized she was still alive, her first instinct was to get to work.

"I knew many of my kids were buried under the rubble. I felt I could not stay in my house. My mission was to help the kids. I tried to do my best. I'm not a doctor; I'm not a nurse, but I tried"

Rea strapped a gallon of the surgical disinfectant Betadine to her back and climbed through the devastated hillsides, washing the wounds of the injured as best she could. When possible, she arranged transport for the broken bodies that still held a flicker of life.

How did she find the strength?

"I have gone beyond what I was the day before the earthquake," is all she will say.

And so Save the Children has done nothing to save Rea's children. But she continues to try, against all odds.

Needs are many. Temporary classrooms are a must, but tents are impossible to come by here. The current school will never be used, but the field is secured at 83 Delmas Road. She needs $20,000 to pay it off completely. Haitian officials have promised tents, but it is doubtful they will arrive……….Continue Reading
Links: Haitians still not receiving aid – corporate scramble , missionary scramble
Dont feed the Haitians, they already got one meal a day.