Arms to Art: Online exhibition of weapons art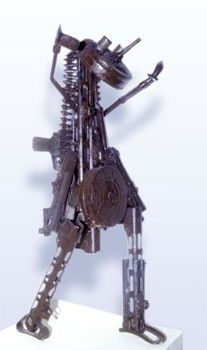 Arms into Art is an ongoing exhibition of sculptures made from old weapons by Mozambique artists.    After 17 years of civil war Mozambique was awash with weapons  so a scheme called "Transformacao de Armas en Enxadas " (Transforming Arms into Hoes) was started 10 years ago by Bishop Dinis Sengulane.
People were asked to hand in their weapons in exchange for something productive that they could use to build a new life such as a farming tool or sewing machine.  The weapons were then broken down and transformed into pieces of art such as the  "Throne of Weapons" and  "Tree of Life" – illustrating peace and prosperity.
"For the artists involved in the TAE initiative, the process is both painful and cathartic — especially as some of them were themselves forced to become child soldiers. "Civil war creates soldiers, and now it is time to make peace," said Cristóvão Estevão Canhavato (Kester), creator of the Throne of Weapons. "We are Gonçalo Mabunda en Eugénio Sarangabuilding creativity out of cruelty and using the symbols of death for healing. We are taking away the instruments of death… to develop a productive life."
Black Looks: Reblogged, Art is Art – 2005